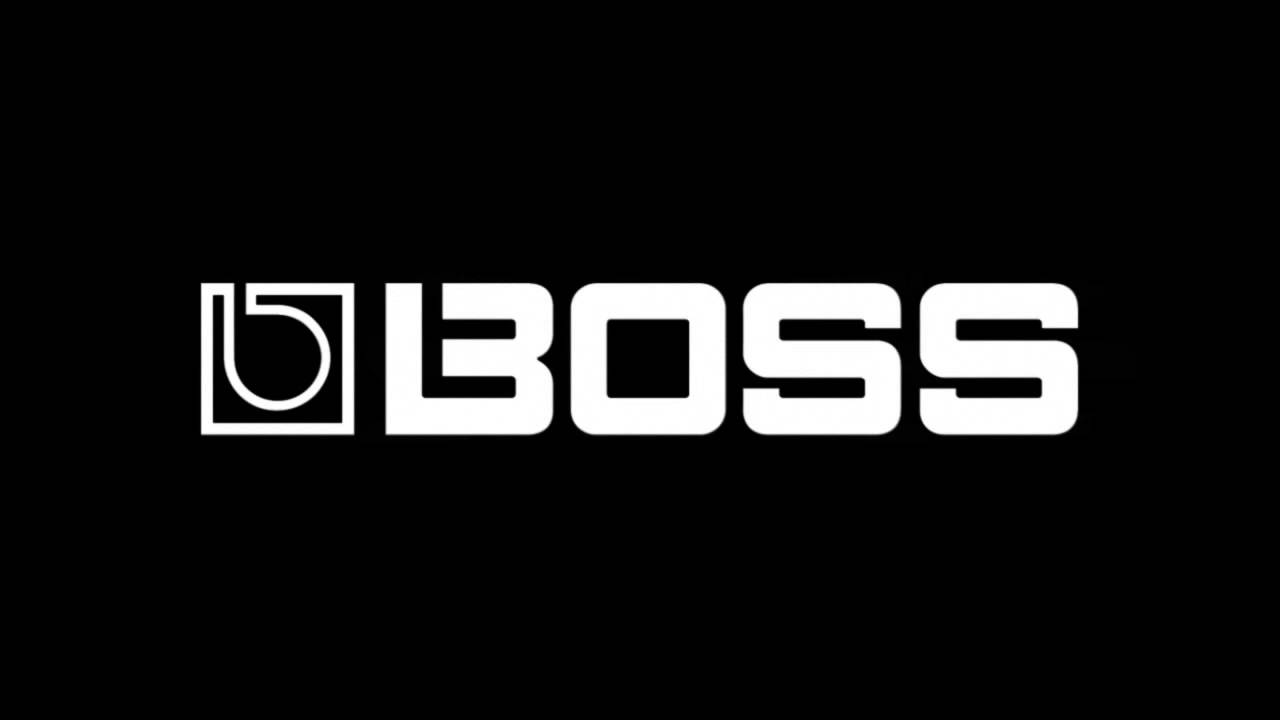 About Boss
Boss
is a manufacturer of
effects pedals
for
electric guitar
and
bass guitar
. It is a division of the
Roland Corporation
, a Japanese manufacturer that specializes in musical equipment and accessories. For many years Boss has manufactured a wide range of products related to effects processing for guitars, including "compact" and "twin" effects pedals, multi-effect pedals,
electronic tuners
and
pedal boards
. In more recent times, Boss expanded their product line by including Digital Studios, rhythm machines and other electronic music equipment.
The earliest Boss product was called
B-100 The Boss
, released in 1974. This came with a clip-on pre-amp and a pickup to amplify acoustic guitars. At this point the Boss company had not been formed and it was still technically a Beckmen Musical Instruments product (as seen on the B-100 box
[2]
). The first proper Boss foot pedal effect, the CE-1 Chorus Ensemble, was released June, 1976, which was a stand-alone unit of the chorus/vibrato circuit found in the Roland JC-120 amplifier.
[3]
It was a fairly large, AC-powered unit. Other foot pedals of that year are the GE-10 (a graphic equalizer), the BF-1 (a flanger unit) and the DB-5 (a distortion unit).
Boss HM-2 Heavy Metal distortion pedal
Boss's line of compact pedals began in 1977 with the release of six pedals, all of them discontinued: an
overdrive
pedal (OD-1), a
phaser
pedal (PH-1), a parametric equalizer called the Spectrum (SP-1), a 6-band graphic equalizer (GE-6), a compressor pedal (CS-1) and an automatic wah pedal (TW-1). The
Boss DS-1
was released the next year, in 1978. Their first compact
chorus
pedal (CE-2) came in 1979, and their first
flanger
pedal (BF-2) in 1980. In 1983 Boss released the DD-2 Digital Delay, the first mass-produced digital delay in a compact pedal format. The Metal Zone (MT-2) was released in 1991. In 1992 Boss released nine new pedals, including the Turbo Distortion (DS-2). The Heavy Metal (HM-2) distortion pedal was an integral part of the guitar sound of many styles of heavy metal music ever since.
[4]
The pedals all share the same 'footprint', for compatibility with pedal boards.
Boss introduced COSM (Composite Object Sound Modeling), Roland's proprietary version of digital
modeling
technology, into their AC-3 Acoustic Simulator pedal in 2006. Boss has since released several pedals using COSM, including the FBM-1 '59 Fender Bassman pedal and FDR-1 '65 Fender Deluxe Reverb pedal, introduced at the Winter NAMM show in January 2007.
All Boss compact pedals use a "buffered bypass" type of silent foot switching utilizing Field Effect Transistors (FETs) to avoid clicks and pops. While not "true" bypass, the buffered bypass has the advantage of preventing signal loss due to long runs of cable, while keeping original guitar tone intact.
[5]
Source: Wikipedia


Boss Malaysia
We are an Authorized Dealer for Boss in Malaysia. You may find us at the address below or contact us through the channels below:
| | |
| --- | --- |
| Store Address | No.10-1F, Jalan Boling Padang E13/E, Seksyen 13, 40100 Shah Alam, Selangor. |
| Opening Hours | Sat - Thu: 10:00AM - 10:00PMFri: 10AM - 12:30PM, 2:30PM - 10:00PMOpen everyday except on Hari Raya and Chinese New Year |
| General Line | (60) 3 5885 3775 |
| Sales & Purchase Rep | +60 12 243 8663 |
| Email | enquiry@tonemasters.com.my |
You can find Boss in Malaysia at Tone Masters with the best and most competitive price ever. We are a music shop situated in a very strategic location in Section 13 Shah Alam with easy access for customers coming from Subang Jaya, USJ, Klang, Petaling Jaya (PJ), Setia Alam, Damansara, Ara Damansara, Glenmarie, Kg. Melayu Subang, Denai Alam, Elmina, Alam Budiman, Kelana Jaya, and Sunway to name a few. We are a 5 minute drive from Utropolis and KDU Shah Alam, a 10 minute drive from Subang Parade, and if you're taking the Guthrie Highway, it will lead you right to our doorstep.
We are surrounded by iconic Shah Alam landmarks such as MSU, Giant Section 13 Shah Alam, AEON Shah Alam, Tesco Shah Alam, Les Copaque Studio, Upin & Ipin Section 13 Restaurant and Stadium Shah Alam.
Drop by and have a look at our newly opened shop where you can find guitar, bass, keyboard, amplifier, drum, effect pedal, guitar tuner, guitar string, and a bunch of other music accessories. Who knows, you might find something you like here and be a proud owner of a product sold exclusively by Tone Masters.
To help you find your way here, you can just type "Tone Masters" in Waze or Google Maps to find us!
Products
---
---