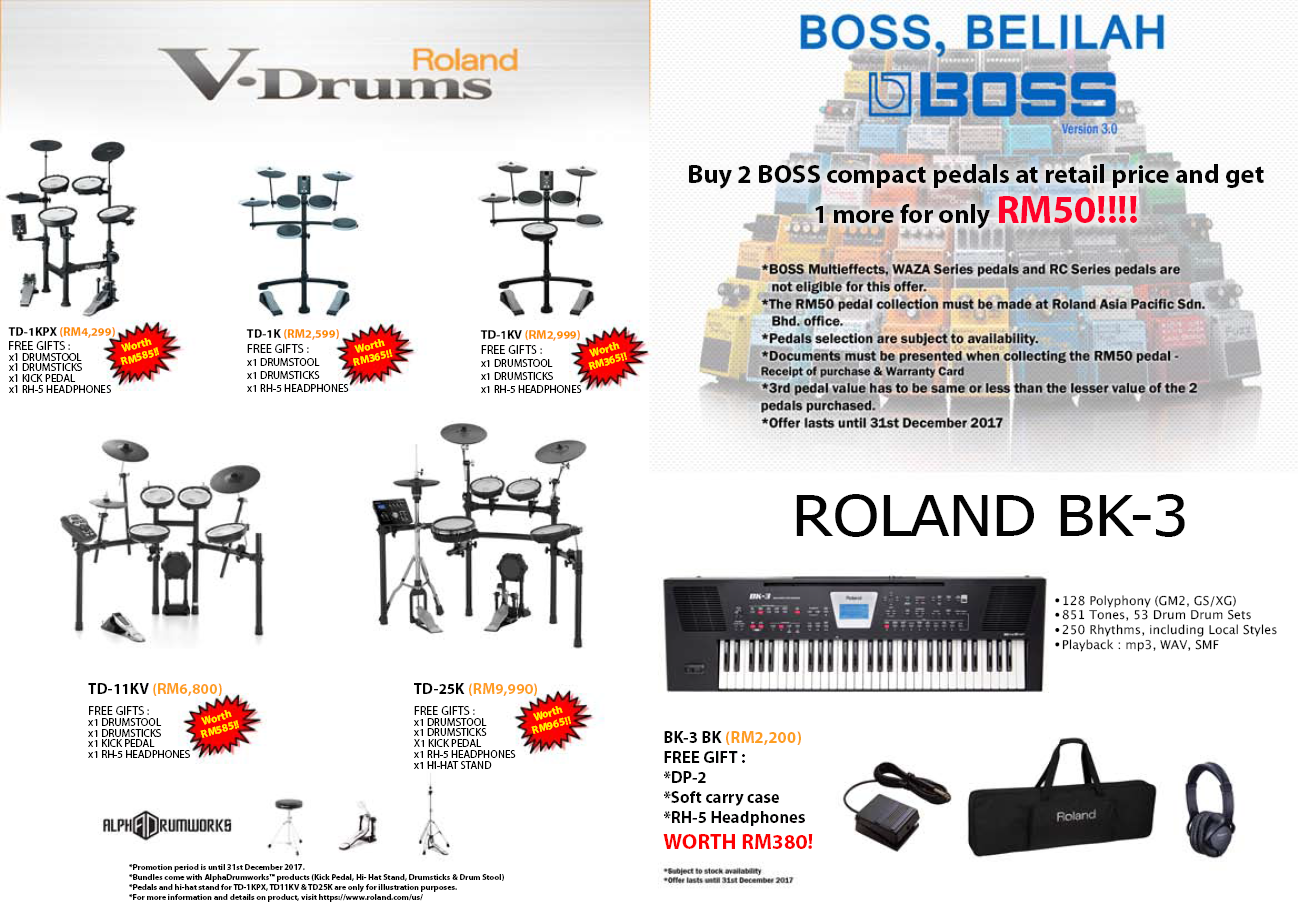 ROLAND ASIA PACIFIC'S YEAR END PROMOTION IS LOOKING AWESOME
As we inch our way closer to the end of 2017, Roland brings something interesting to the table to close this year with a bang. What's interesting is that they're giving away must-have products (either free or at an unbelievable price) that's pretty hard to pass up on!
In the first part of the article (which you can find here), we looked at the promotions for Michael Kelly guitars and the BOSS Katana 100/212 amps that Roland Asia Pacific is currently running until the end of the year. Now let's take a look at what else Roland AP has up it's sleeve. Right off the bat we have Roland's V-Drum range of electronic drums on display with 5 models looking to receive a lotta love. Roland is collaborating with Alpha Drumworks to give up to 5 free gifts with every purchase of a V-Drum within these 5 models. The first on display is the TD-1KPX. Dubbed as the portable v-drum, it can virtually be taken anywhere and played anywhere due to its compact and lightweight design. The TD-1KPX's onboard training function makes it a really enjoyable experience to learn by yourself or with an instructor. Receive a free drum stool, drum sticks, kick pedal, and an RH-5 headphone with this bad boy. A word of note though - this model is being discontinued so if you're looking for one, this is the best time to get it before it's too late. Moving on to the TD-1K and TD-1KV. These are entry level drum sets where the only difference between the two is in the snare setup. The TD-1K comes with a solid-pad snare whilst the TD-1KV comes with a mesh-head snare. These two are suitable for those looking into getting into the whole electronic drum setup and an affordable cost. These drums are a great introduction to Roland's V-Drum electronic drum range.
If you have the budget, try looking at the mid-range TD-11KV which brings a different experience to electronic drums. With it's SuperNATURAL technology, the sounds of the drum beat are more realistic and natural than that of its entry level counterpart. It also offers a variety of powerful features, including backing songs in variety of musical styles, Quick Record/Quick Play, a COACH function, and USB for MIDI/AUDIO and data storage. Lastly, the TD-25K is for serious drummers who want the playability of a high-end V-Drum in a mid-level kit which ca nbe used for home and studio. This bad boy has some serious expressions on the hi-hat and responds dynamically to each hit of the drumstick.
BOSS Pedals
This is close to home for me and hits a note right in my heart. Effects pedals have been around since the dawn of electric guitars where early adoption were made famous by the likes of Jimi, Chuck, Eddie, Frank, Steve, Pete, and David to name a few (can you figure out who they are?). Effects pedals come in all shape and sizes, but it was Boss that came up with the first compact design with the introduction of the OD-1 overdrive pedal in 1978. The design is so iconic that it's been copied over by many other pedal manufacturers. Currently Boss is celebrating it's 40th anniversary and has released a few iconic pedals in their own right - a limited-run 40th anniversary models. These include the DS-14A, the BOX-40, and the latest installment is the special collaboration with JHS pedal - the JB-2 Angry Driver (which is a monster in tone by the way). And to close off this year with a bang, Roland Asia Pacific is offering a third pedal for only RM50 when 2 pedals are bought in a single receipt. The third pedal must be equivalent or less than the lowest price pedals of the two purchased. This offer is valid for all Boss compact pedals and excludes any multieffects or the WAZA range. The third pedal can be purchased and collected at Roland Asia Pacific's office in Dataran Prima, Petaling Jaya.
Roland Keyboard
Last but not least in our list of Roland AP's promotion is the Roland BK-3 keyboard (Black variant). Made for keyboard enthusiasts who aim for an entry-level keyboard, this one does the job perfectly. It features a wide range of onboard sound and rhythm, song playback via a USB memory, built-in speakers, and more. With it's compact form factor, it is highly portable and brings hours of non-stop enjoyment. A carrying case, a DP-2 footswitch and RH-5 headphones are what you'll get with every purchase of the BK-3 (black variant only).
Well, that's it folks. I've pretty much covered all that Roland Asia Pacific has to offer for the year end. What do you think of the offering? Are you likely to pick up one of these offers? We hope you will and we enjoy bringing you the latest news and promotions from all the brands that we carry. Until the next article, I'll be seeing you guys again. Stay with us at Tone Masters for more exciting new, articles and promotions. If you require further info or assistance please feel free to contact us at enquiry@tonemasters.com.my and we'd be happy to assist.
* Free gifts are to be redeemed at Roland Asia Pacific upon every successful purchase from an authorized dealer. Alternatively you may contact Roland Asia Pacific either by calling them at 03-78053263 or dropping an email to them at contact@rolandap.com.