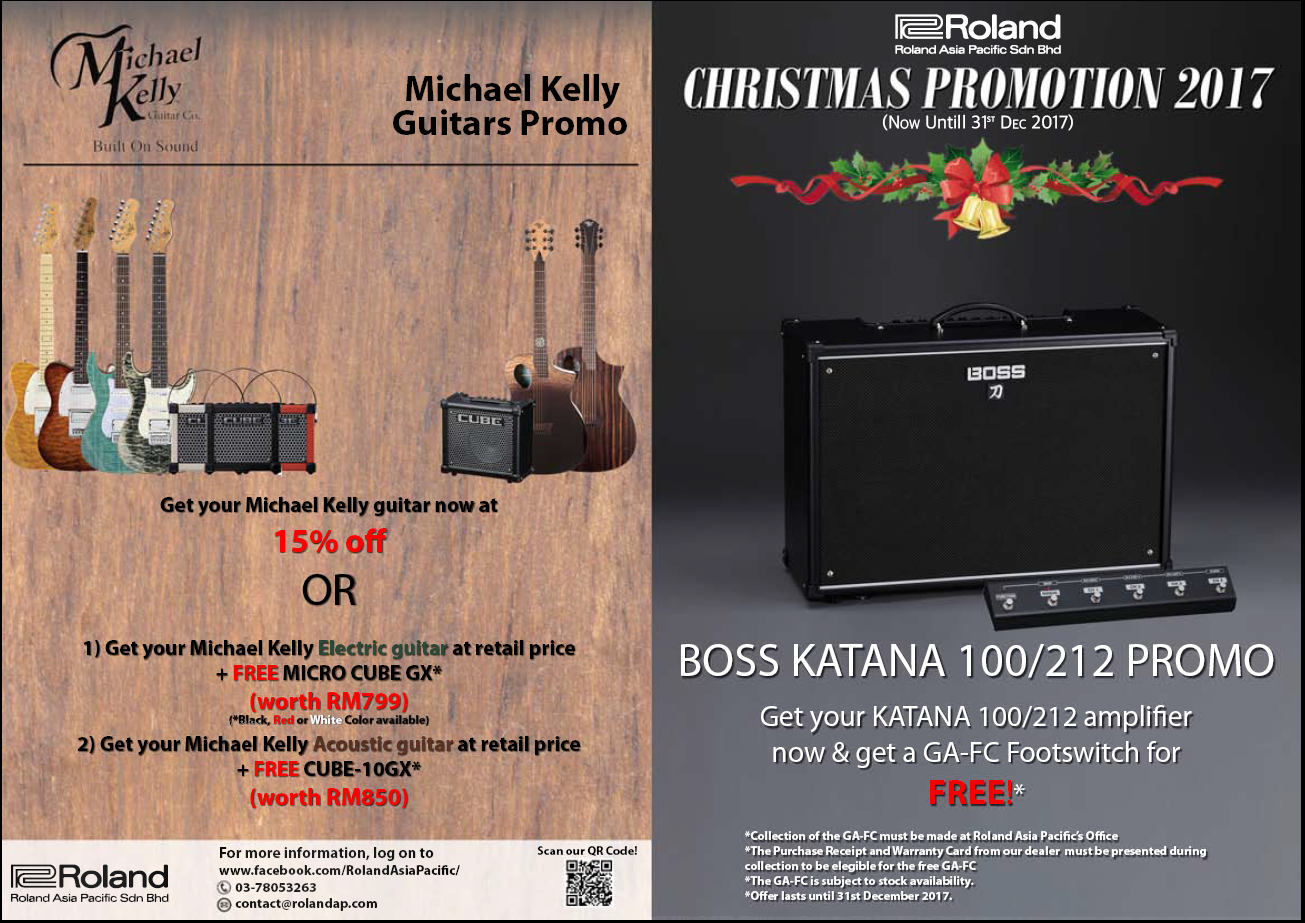 IT'S THE ROLAND END-OF-YEAR PROMOTION! CLAIM A FREE AMP AND FOOTSWITCH WITH THESE PURCHASES
As we inch our way closer to the end of 2017, Roland brings something interesting to the table to close this year with a bang. What's interesting is that they're giving away must-have products (either free or at an unbelievable price) that's pretty hard to pass up on!
First up, we look at Michael Kelly guitars.This US based company founded in 1999 which is a part of the Hanser Music Group (who also owns brands like B.C Rich Guitars and Kustom Amplification) produces fine quality guitars, bass, and mandolins mainly manufactured in South Korea to their specifications. They are recently gaining much popularity due to the release of their new Mod Shop Guitars, where they swap out their stock pickups on their standard design guitars for Lindy Fralin, Seymour Duncan, TV Jones, Bare Knuckle and Fishman. Notable artists which have used the Michael Kelly line include Duff McKagan of Guns N' Roses, Shavo Odadjian of System of a Down, and Tony Bigley of Souls Harbor.
From now until 31 December 2017, Roland Asia Pacific is giving away the Roland Cube amp range with any purchase of a Michael Kelly guitar. Take a look at what they're offering:
With every purchase of a Michael Kelly electric guitar at retail price, get a free Roland Micro Cube GX worth RM799 with black, white, or red as color options
With every purchase of a Michael Kelly acoustic guitar at retail price, get a free Roland Cube-10 GX worth RM850
That's not a bad deal at all if you ask me. As we all know, the Roland Cube series is a highly praised line of practice amps produced by Roland and have generally good reviews all around. Just take a look at what the guys at Anderton's have to say about this amazing amp:
Next up is the BOSS Katana 100/212. The Katana amp series was released just a smidgen over a year ago and have made headlines with the tonal power and features it packs. The combo which comes in sizes from a 50-watt 1x12 inch speaker, a 100-watt 1x12 inch speaker, and also a 100-watt 2x12 speaker, this beast provides so much punch that it sounds more like a tube amp than it's solid state condition. But wait, the Katana also comes in the form of a a Head! Aptly named the Katana-HEAD, this bad boy features something unique hard to find on others...a 30-watt 5 inch speaker inside the Head itself. That's right, this amp head can function on it's own without a full-blown cab! Perfect for night practices without annoying the heck out of your neighbors. And, recently to join the Katana line-up is the Katana-Mini. It's got itself some serious rock DNA forged into a compact, battery-powered amp.
Now that you know more about the Katana series, what are you waiting for? Go out and get yourself one today. To sweeten the deal, Roland Asia Pacific is offering a free GA-FC footswitch with every purchase of a Katana 100/212 which retails at RM2,290 (RM2,061 at Tone Masters. Check it out here). This is a serious purchase for guitarists looking to up their game and experience a wholesome shebang of BOSS' effects pedal range in the process. Oh, did I not mention that yet? The Katana packs the most famous BOSS effects pedals right inside the amp itself so you'll have plenty and countless hours of fun just trying out those multitude of effects. And before I get to mention this:
Katana Version 2: Expanded Effects, More Tone Settings, and Increased Performance Versatility
Available starting October 2017, the feature-packed Katana Version 2 update adds many user-requested additions and enhancements to the Katana stage amp lineup. New SDE-3000 delay, Phaser 90E, and Flanger 117E effects bring the total number to 58, and the Tone Setting memories have been doubled for even greater versatility while performing. The update also includes newly added channel and global EQs for refined tone-shaping, powerful Cabinet Resonance and Air Feel direct out functions derived from the Waza amp series, and many other great features. Katana Version 2 is a free, user-installable update for all Katana owners, and is available to download for the Katana 100/212 here.
Checkout the video below for some awesome sound samples of the Katana range of amps.
There's a few more promotions from Roland Asia Pacific that I'd like to talk about but I'll save that for another day and cover those in an upcoming article. Remember, the Michael Kelly guitar series and the BOSS Katana amps are available right here at Tone Masters so shop away while these promotions are still on-going. If you require further info or assistance please feel free to contact us at enquiry@tonemasters.com.my and we'd be happy to assist. Signing off for now. Adios!
* Free gifts are to be redeemed at Roland Asia Pacific upon every successful purchase from an authorized dealer. Alternatively you may contact Roland Asia Pacific either by calling them at 03-78053263 or dropping an email to them at contact@rolandap.com.